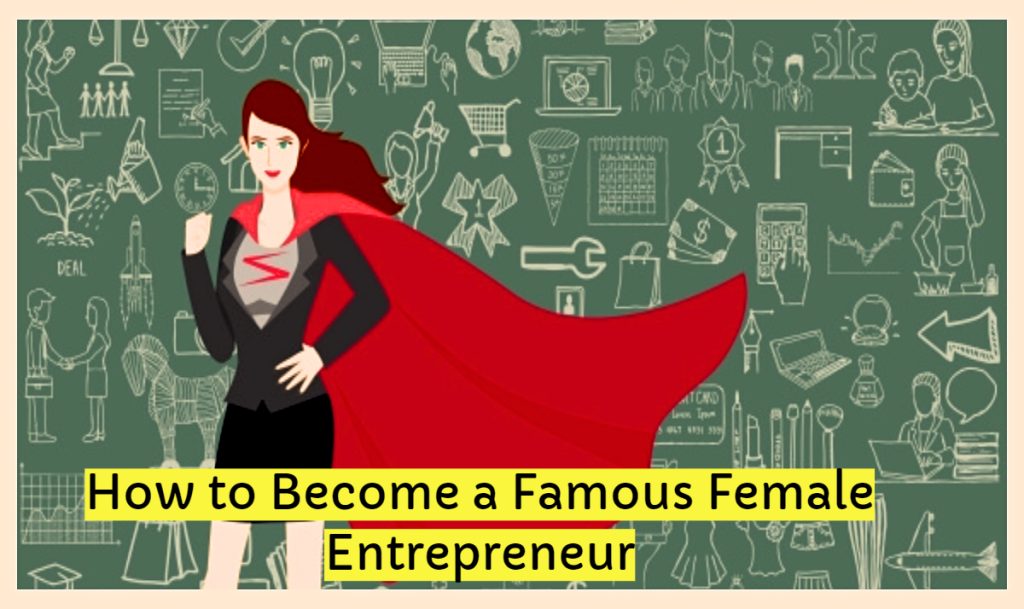 Most female entrepreneurs aspire to become successful and famous in their entrepreneurial journey. Mostly, success, wealth and fame go hand in hand. However, it is necessary to achieve fame, respect and power by becoming an asset to society. Add value to the world, perform good deeds, and actively engage in the community to become a famous female entrepreneur.
Your popularity and reputation have a direct connection with your business. If you do what is right, you can quickly achieve fame. Try to learn, educate, volunteer, perform acts of service, encourage others, build character and be a positive role model. As a female entrepreneur, remember that becoming famous has a lot of challenges. It takes continuous hard work to maintain goodwill. With that in mind, let's read how to become a prominent female entrepreneur and maintain a good reputation.
Be Innovative and Solve a Major Problem in the Society
Successful and famous female entrepreneurs represent courage, innovation and creativity. If you aspire to gain popularity and fortune, think globally and set your goals accordingly. Try to eliminate a crucial challenge in the community.
Most successful and prominent entrepreneurs solved a pressing problem in the world.
Bill Gates changed the IT industry, Henry Ford revolutionised the Automobile industry, and Steve Jobs eliminated the challenges in the ICT industry. All these examples represent that an entrepreneur can attain fame and fortune by solving a critical challenge in the community.
Apply a No-Nonsense Approach to your Business to Become Industry Leader
People usually remember the leaders of industries. If you aim to become a leader in your sector, people will start noticing you. To position your business as an industry leader, apply creativity, innovation and a no-sense approach to your business. Your no-nonsense approach to employees and their dealings with customers can increase the goodwill and efficiency of the organisation.
The clients, employees, and community mostly appreciate female entrepreneurs who are practical and serious about their businesses and goals. So you gain popularity for your determination, dedication, firmness, seriousness and sincerity.
Participate in Community Social Responsibility by Sponsoring and Advocating for Local Programs and Causes
Female entrepreneurs now realise that their purpose is not only to make profits but also to serve society. By participating in community initiatives, they can benefit the world and also gain recognition. If you are a female entrepreneur, try to become a part of nonprofits, educational institutes or charities to become famous. You can also build hospitals, damaged roads, bridges, schools, and civic centres to receive recognition.
Moreover, caring about the well-being of the underprivileged can earn you admiration and public recognition and enhance your entrepreneurial reputation. You can also support a community-based program through sponsorship to create a positive image in society.
Maintain the Highest Standards for your Products and Services and Value your Customers Highly
If you intend to become a famous female entrepreneur, make extra efforts to offer top-quality products and services to the customers. It will enhance your goodwill and make you legendary. Moreover, treating your clients and employees with the utmost respect can build your reputation effortlessly. When you give high quality and regard to customers, they are likely to share their positive experiences with others. This way, you can become famous in your community for your excellence, service and relationship with the clients.
Build Your Online Presence
You can start using social networking sites to become famous on the internet. Solving society's problems while connecting with the audience online enhances the entrepreneur's prominence. Moreover, you can start your YouTube channel or write blogs on your industry's relevant topics. When you regularly share your views, knowledge and experience on a subject, people begin to see you as an industry expert. Thus, building your online presence can help you become a famous female entrepreneur.
These were some lessons we learnt from famous female entrepreneurs to become popular. Lastly, to become an eminent entrepreneur, be vigilant and protect your character and reputation at any cost. If you lose your wealth, you have lost something, but losing your reputation means you have lost everything. So if you are a female entrepreneur, always be careful about your words and actions because you are always in the public eye.