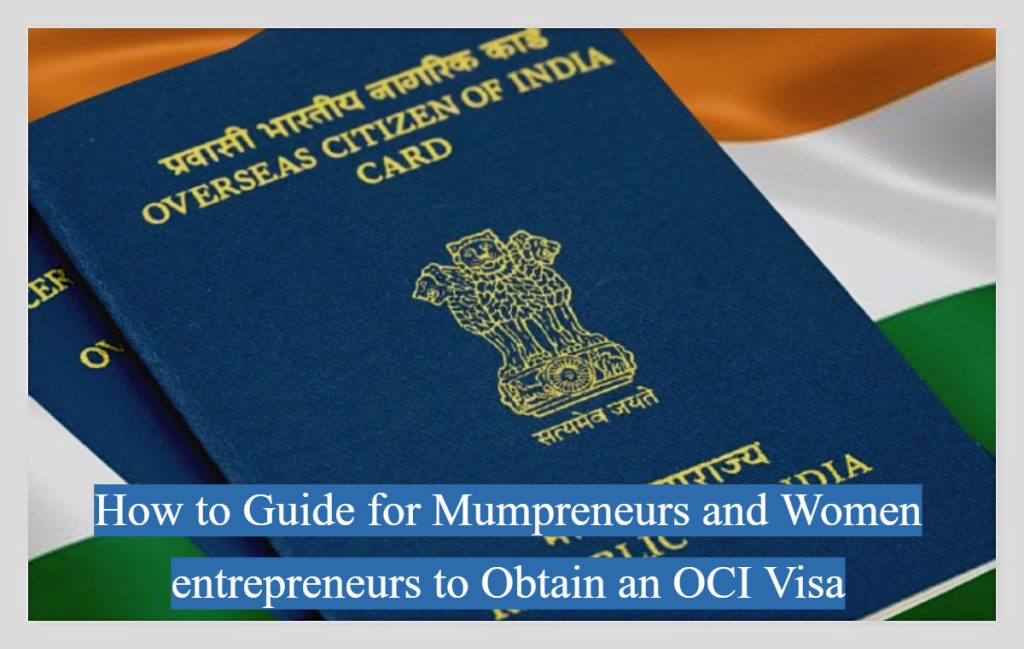 Importance of Obtaining an OCI Visa for Women Entrepreneurs and Mumpreneurs
The world is witnessing exponential growth in the amount of women entrepreneurs and mumpreneurs. These female leaders are successfully creating a balance between businesses and family. Female entrepreneurs face a lot of challenges while building their empires. However, with support and resources, women can turn their entrepreneurial dreams into a successful reality. An OCI Visa is a very helpful resource for women entrepreneurs.
Several Indian-origin women are also establishing their businesses in the UK. If you are also an Indian businesswoman with British citizenship, you must obtain a valid visa to visit India. Moreover, mumpreneurs and women entrepreneurs must submit the surrender certificate after cancelling their Indian passports. They can avail conventional Tourist Visa, but it has a validity of only six months.
To access unlimited travel and stay in India, UK-based women entrepreneurs of Indian origin can obtain an OCI visa. An Overseas Citizenship Of India (OCI) Card is a lifetime, multi-purpose and multi-entry visa. It enables the holder to travel and stay in India without any limitations. Moreover, the best part is that the OCI application fee is a one-time cost.
Candidates can easily apply for OCI through an online procedure. Women entrepreneurs and mumpreneurs need to complete their details online in the OCI Application Form. Further, they must print it out and submit prescribed documents, fees and application forms at an allotted VFS Center. Generally, issuing an OCI Card takes a minimum of 4-6 weeks, but sometimes delays may occur due to technical reasons.
Can Divorced Women Enjoy OCI Status
Separation and divorce can be difficult and overwhelming. Divorce permanently terminates the marriage, affecting the life of a woman adversely. Being a divorced woman can be very challenging. Women experience several problems like financial issues, difficulty in getting employed, mental illness and raising children on their own.
Among all these difficulties, the good news is that Indian-origin divorced women can enjoy OCI status even after separation. Thus, a woman can obtain OCI after divorce if:-
she has/had an Indian passport,
she/any of her parents/grandparents were Indian nationals under the Citizenship Act, 1955 or the Constitution of India.
However, if a woman gets OCI through her spouse, she has to give up her OCI after the divorce. Under Section 7D(f) of the Citizenship Act, any foreign partner of an Indian resident would lose OCI status on separation. Thus, non-Indian women who obtained the OCI Card after marrying Indian citizens cannot continue to enjoy OCI status after their divorce.
Can Single Parents Enjoy OCI Status
Single-parent families have become more common than traditional "nuclear families." However, being a single parent can be extremely hard and stressful. They have to face several challenges like single-handedly raising the children, managing expenses and maintaining a job.
Being a single parent is difficult, but obtaining an OCI card is very easy. Indian-origin single parent or a person whose parents/grandparents/great-grandparents are Indian nationals are eligible to receive OCI.
If a child's parents are divorced, they can obtain OCI for the child in the following cases:-
the legal custody of the minor is with the parent who is applying for the child's OCI Card, or
if both parents hold joint custody of the minor, they must together provide a notarized consent letter to obtain OCI for the child, or
court order permits the issuance of OCI to the minor with one of the parents, or
in the case of an adopted child, live-in relationship and surrogacy, the applicant must submit all the necessary documents with the application.
Step-by-Step Guide to Obtaining an OCI Visa
Follow the below procedure to apply for OCI Visa:
Check eligibility: Only persons of Indian origin or Indian citizens by birth can apply for an OCI visa.
Fill in the application form: People willing to obtain an OCI visa can fill out its application form at https://ociservices.gov.in/. They must fill in all the necessary details accurately.
Provide necessary supporting documents: Upload a copy of your passport, proof of belonging to Indian origin or nationality, and a passport-size photo.
Apply: After filling out the application form and providing the required documents, you must submit the application and fee at Indian Embassy.
Wait for processing: The applicant must patiently track the status of their application. People generally receive OCI in several weeks to several months.
We recommend using Reload OCI Help Service for all OCI-related assistance. Sunrise Radio and several Indian celebrities have endorsed Reload for its outstanding services. The Paddington-based service provider charges a low-cost fee and can sort out all the formalities, including taking your photo. You can visit Oci-help.com and Reload Internet for all OCI queries and services.