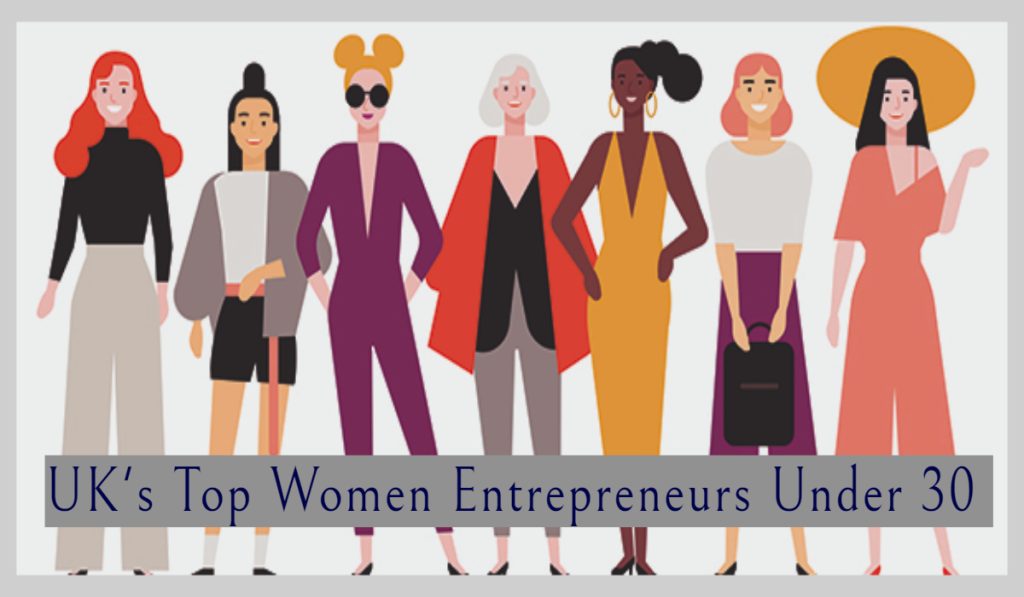 Female entrepreneurs are an inspiration for everyone. In the last few years, the number of women entrepreneurs has increased globally, especially in the UK. According to the survey conducted by UK small business services, female entrepreneurs contribute almost £50b to the UK's economy. They not only boost the economy but also empower society as well. Interestingly, most successful female entrepreneurs are young. With that in mind, let us look at some of the UK's top women entrepreneurs under 30.
Aasiyah Abdulsalam
Aasiyah Abdulsalam is a 27-year-old woman entrepreneur and owner and founder of The Renatural, an international beauty brand. 'Renatural' refers to looking and feeling real and beautiful. The Renatural is a prominent name in the wig industry and offers a variety of innovative products like The Wig Pouch and The Wig Fix. The Wig Fix is the world's first non-allergenic and waterproof headband that promotes hair growth while protecting the scalp and wig.
Aasiyah grew up with psoriasis. The condition severely affected her scalp and led to heavy hair loss. Thus, she had to wear wigs always. Over the years, she experimented with several styles and was soon interested in the wig industry. Moreover, Abdulsalam completed her studies at the London School of Economics in 2017. Further, the entrepreneur researched the history, manufacturing, globalisation, ethical standards, economics and every aspect of the wig market.
After several months of hard work, Aasiyah founded The Renatural in 2019. Additionally, she invented The Wig Fix, the first silicone wig gripper in the world. Till now, she has successfully sold over 60,000 products in 33 different countries. Moreover, she possesses the first and only wig-related patent. In 2020, Aasiyah's company received the title of one of the best beauty products in the world. Additionally, in 2022, she was listed in the Forbes under 30 list.
Nina Devani
20-year-old Nina Devani is the youngest woman entrepreneur on our list. She started Devanisoft, a software business, at the age of 14. Nina came up with the business idea when some spammers fraudulently hacked her father's Facebook account. Thus, she designed software that helps users with password management.
Since the start of the business, Devanisoft has earned profit and appreciation. Today, Nina's company hires coders and developers to ensure the accuracy and relevance of the software. The budding female entrepreneur was always passionate about business. Moreover, she believes in perseverance, hard work and intelligent action rather than just dreaming about goals.
In 2014, Nina became the youngest nominee to be Shortlisted for the NatWest Everywoman Awards. So far, the entrepreneur has received several honours and awards for her incredible work. Additionally, Devani is planning to launch new software and applications related to cybersecurity and new media.
Solveiga Pakštaitė
Solveiga Pakštaitė is a 29-year-old British entrepreneur, researcher, UX consultant and trends forecaster. She is on a mission to reduce global food wastage and transform people's perception of expiry dates. Moreover, she is the founder, inventor and Director of Mimica, a company that manufactures food-saving products. Mimica's first product is Mimica Touch, an indicator that determines the freshness and spoilage of food through temperature.
Indeed, Solveiga's innovation has already received industry recognition, press attention and several awards. In 2017, she was featured and nominated in MIT Technology Review's 35 Innovators Under 35, Europe. Moreover, in 2018, Barclays awarded Pakštaitė the Social Entrepreneur of the Year Award. FoodBytes! has also honoured her with the People's Choice Award. In 2019, Mimica received two awards at the Cannes Lions International Festival of Creativity.
Solveiga believes in creating a business that follows ethics and values, offers great jobs and delivers kindness. Moreover, she is also the director and founder of "Design By Sol", a freelance design studio. She also conducts several sessions on Transformative Entrepreneurship as a visiting lecturer at University College London. The entrepreneur is also a Committee Member of Fast Forward 2030, a body of entrepreneurs promoting Sustainable business ideas.
Ella Mills
Ella Mills is a British entrepreneur, author and writer famous for her food blog and brand "Deliciously Ella". Deliciously Ella offers healthy food products and helps people improve their lifestyle and make vegetables cool. In 2011, doctors diagnosed Ella with Postural Tachycardia Syndrome, which affected her digestion, blood pressure and heart rate. Subsequently, she changed her diet and lifestyle for her health and well-being. Soon in 2012, Mills began her food and wellness blog named Deliciously Ella.
At present, Ella runs the company as a Brand Director and has a team of almost 50 employees. Her business offers seven lines of food products in more than 7,000 stores in Britain. Mills also owns a restaurant and a podcast. So far, the entrepreneur has published six bestselling cookbooks about healthy food and its importance. Moreover, Mills believes in natural, plant-based healthy living. The net worth of Ella is estimated to be £1.3m.
Carrie Green
Carrie Green is a British entrepreneur, author, YouTuber and content creator. She is the CEO and founder of the Female Entrepreneur Association, an institution empowering women to build businesses. The entrepreneur also wrote a book named She Means Business, an international bestseller.
With a net worth of £1.73M, Carrie aims to inspire women to share their business ideas and achieve success. Moreover, she posts several informative and motivational videos on YouTube to help students and aspiring entrepreneurs attain their goals. She believes that every successful business starts with an idea that becomes reality only through hard work, consistency and vision.
Women entrepreneurs are constantly proving that they are the backbone of the economy. From food blogging to creating software, women are achieving success in every industry. These female entrepreneurs are an inspiration for everyone.
Among our list of the UK's top women entrepreneurs under 30, which businesswoman is your favourite? Let us know in the comments section below.