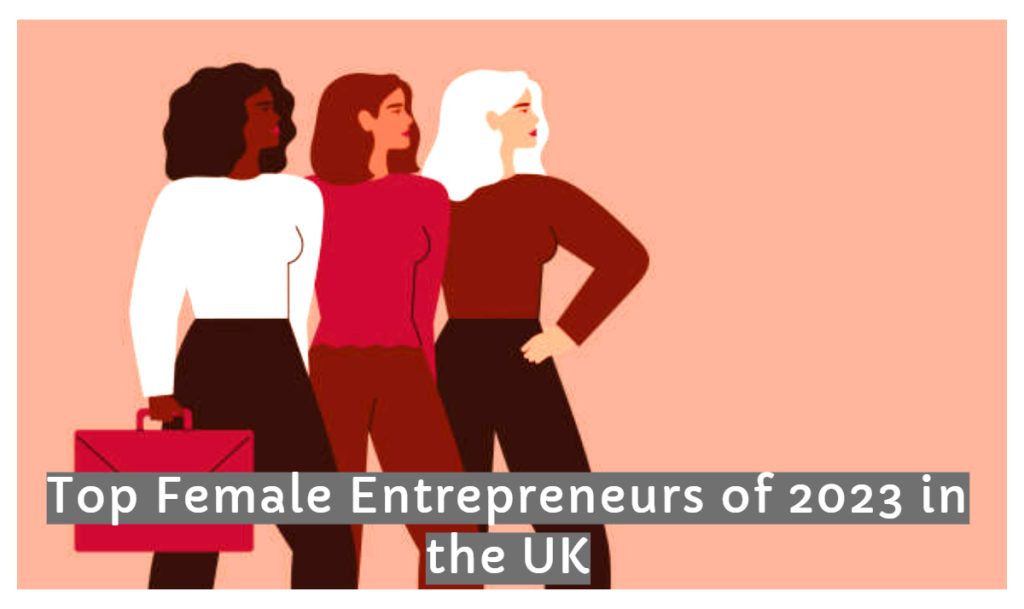 The UK has seen a steady and impressive growth of female entrepreneurs in all industries since the last decade. This inspiring trend continues with an increasing number of role models paving the way for other aspiring female entrepreneurs. From tech innovators to lifestyle experts, women entrepreneurs are achieving great success in their respective fields.
There exist many female entrepreneurs to watch in the UK in 2023. These women have the drive, ambition, and skills to succeed in any business. Whether they are starting their business or acquiring an existing company, these women are making a significant impact in their field.
We are excited to discover what it takes to reach such heights of success as a women entrepreneur. Let's learn their stories, understand their motivation and know what makes them unique. Today, we will look at the top female entrepreneurs to watch in the UK in 2023.
Erim Kaur
Erim Kaur is the CEO and Founder of ByErim, a hair and beard oil brand. From losing her mother in childhood to honouring her beautiful hair, Kaur dedicates ByErim to her mother. She used her grandmother's recipe and high-quality ingredients to create a hair oil that gives shiny and healthy hair.
Kaur established ByErim in 2019 after saving £10k from nightclub jobs. She discovered a demand and is assisting people in getting the strong and healthy hair they need. ByErim offers perfect hair oil for everyone and promotes hair care that results in healthy hair. Since its launch, the business has become a big success and is now among UK's top 5 fastest-selling hair oils. After three years of its launch, ByErim has a multi-million-pound turnover today.
Apart from monetary success, Kaur loves to see the community she has built. The entrepreneur uses social media to inspire young women who lost their mothers at a young age. With 254k engaged and enthusiastic followers, Erim shares fashion tips, beauty hacks, and advice on modesty and behaviour on social media. Kaur strongly believes that everything in life is a test and that individuals should perform every task gracefully.
Camilla Ainsworth
In 2018, Camilla Ainsworth created history by becoming and being the youngest finalist on the BBC's popular series 'The Apprentice'. Subsequently, she worked closely with three multinational companies to accelerate their growth. Moreover, after The Apprentice, Ainsworth joined hands with Claude Littner to start his business school and provide modules to aspiring entrepreneurs. The same year, she established MYLKPLUS, a revolutionary business offering vegan, dairy-free, nut-alternative, lactose-free drinks. Camilla introduced the brand to deliver better health and well-being to all sectors of society.
Ainsworth is a confident and proud Lancashire woman who has built and developed several service and product-based businesses from scratch. Moreover, from startups to international companies, Camilla offers consultancy services to every type of client through an individualistic approach. The entrepreneur is a big supporter of women in business and innovation. She also conducts several events and workshops to encourage aspiring women and start-ups.
Recently, StarlingBank named Ainsworth in the 'Top 10 women to watch list'. Moreover, Business Insider Magazine has listed Camilla in the 'Top 10 female entrepreneurs making moves'.
Amber Atherton
Amber Atherton is a 32-year-old British businesswoman and Head of Strategic Communities at Discord, a voice, video and text chatting app. She is the founder and CEO of Zyper, a marketing software that connects businesses with audiences and creates strong communities. In January 2021, Discord acquired Zyper.
Since childhood, Atherton liked coding, as a result, she set up several online businesses, including visual recognition apps and e-cards. At 17, she established an e-commerce company, My Flash Trash. In 2016, the entrepreneur sold the cult brand for £2 million. The entrepreneur gained popularity after co-creating and appearing in the famous British reality show 'Made in Chelsea'.
In 2016, Forbes listed Atherton in the 'Forbes 30 Under 30' list. Moreover, British Vogue honoured Amber and named her the "5th-Most Powerful Person in Digital Fashion". Atherton has expertise in predicting social trends and creating grass root communities. Moreover, she regularly features on television and at international conferences.
Clare Dutton
Clare Dutton is a 30-year-old entrepreneur and director of Duttons Divers, a venture offering professional scuba diving courses and boat dives. In 2019, Dutton became the Youngest candidate in the UK to enter the PADI Course Director Programme. She currently administers two dive centres and also owns two dive boats. Clare started her diving journey at 19. Being an instructor, she has taught over 2,000 individuals to dive.
Clare Dutton's entrepreneurial journey was not easy. She started her venture with a small loan to buy business-related items. The self-motivated entrepreneur is creating a niche by seeing gaps in the industry. Dutton believes that hard work and motivation lead to success. She has also filmed for TV shows and movies, like Tarzan, King Arthur and Pikachu. The Telegraph named Clare among the 100 Female Entrepreneurs to Watch in the UK.
Kierra Campbell
Kierra Campbell is an entrepreneur, co-founder, business partner and managing director of Poodle and Blonde, an interiors brand. Poodle and Blonde is a one-stop shop for a unique and exquisite range of cushions, fabrics, wallpaper, and other interior objects.
Since childhood, Campbell has been challenging conventional paths. At 16, she decided to climb the corporate ladder and went against her grandmother's conservative desires. Soon Kierra started working in fashion merchandising for Marks&Spencer and then Selfridges to pursue her interest in art and beauty. While working at Selfridges, the entrepreneur discovered her genuine interest in interior design and production, quickly excelling in these fields.
Soon Kierra established her first venture of screen printing to explore something new. The Caribbean heritage-based creative business taught the entrepreneur to improve her understanding of the fashion industry. She gained expertise and knowledge as a creative wizard by working at the House of Hackney, London's famous luxury interior brand.
Before establishing Poodle and Blonde, Campbell was a freelance Production Consultant for growing interior labels. At Poodle and Blonde, she focuses on the brand's daily operations, modification and growth of concepts and strategic planning. Kierra encourages youth and innovators to never give up on dreams and try, fail, learn and try again.
Merilee Karr
Merilee Karr is an industry expert, entrepreneur, founder and CEO of UnderTheDoormat. She is also the Chairperson of the UK Short Term Accommodation Association, an industry body offering excellent cooperation in solving industry challenges.
Merilee is a frequent speaker at industry conferences in the UK and worldwide and often appears on Sky News and BBC. In 2014, she established UnderTheDoormat after working for 13 years with Shell, an oil and gas company. UnderTheDoormat is a luxury home accommodation business offering travellers the comfort of home with the quality of a hotel.
Merilee always wanted to use her experience to transform the homestay industry. It offers tourists the comfort of a home, professional service and peace of mind. She has received various awards, including Businesswoman of the Year in 2019 and JP Morgan's Top Female Powered Companies in 2021.
Merilee has also worked with HMRC and BEIS on allocating economic policies. Moreover, she joined hands with MHCLG to create industry-wise policies to maintain a balanced governing environment for the developing industry.
These top female entrepreneurs of 2023 in the UK represent several industries and backgrounds. They inspire the next generation of aspiring entrepreneurs and play a significant role in the UK's vibrant business landscape. They have not only demonstrated remarkable business acumen and strategic thinking but have also made a positive impact in their communities. Do you know of any exceptional women entrepreneurs we missed on this page? Please inform us, and we will gladly add it. We aspire to grow this list and make it more comprehensive.