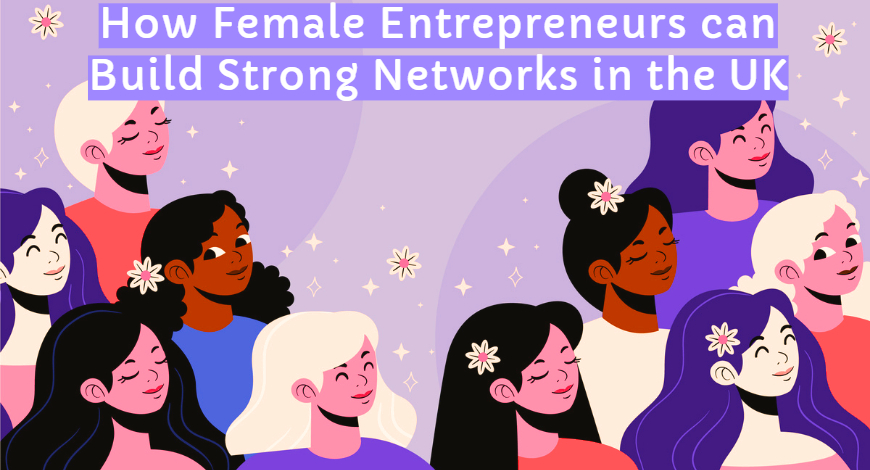 Building a network can be very useful to female entrepreneurs. Networking can open doors to necessary business opportunities and help entrepreneurs acquire knowledge and support. If you connect with industry experts, mentors and valuable clients, you can expand your business and build a good reputation. This article explains how female entrepreneurs can create their networks in the UK.
7 Effective Steps to Build a Strong Network in the UK
Find New Communities
The most significant step for networking is to find new people and connect with them. Female entrepreneurs can connect with other professionals through seminars, webinars, events, conferences, designated networking organisations, social media and forums. Businesswomen can find individuals with similar geographic locations, demographics, industries, business stages, and personal and professional interests to build a better connection.
You can also use social networking sites to find people and groups with common goals and interests to participate in discussions. Get involved in online and in-person meetings and events to find genuine opportunities. Look for niche communities of your industry or demographics to create an authentic connection with the people of your area.
Prepare Pitch
Before interacting with new people, develop a plan for approaching other executives, professionals, and employees. Promote your company to anyone by designing an upgraded pitch representing your business. Prepare several versions of your pitch according to different types of audiences. Regularly practice your pitch so that you can talk easily with other entrepreneurs about your business and goals.
While attending a specific event or meeting industry professionals, prepare for relevant discussions by researching notable topics and keynote speakers. Exchange business cards with other entrepreneurs to create new contacts. By creating meaningful connections, you can build a strong female entrepreneurs network.
Attend Events
You can efficiently broaden your network by attending virtual and in-person events. You can socialise, learn, build long-term relations, understand competitors and customers and discover trends by participating in events. Attending videoconferences allows female entrepreneurs to access events, workshops and meetings in different geographic places and fields. Moreover, in-person events enable networking opportunities with people having common business goals and interests.
Engage with your Local Community and Network Everywhere
You can promote your business by building a good relationship with residents, retailers, entrepreneurs and workers in your local area. If you engage with the local community, you can increase your audience and attract new customers. Moreover, if you interact with the retailers of your region and understand their businesses, you can also open up several opportunities. By building a genuine connection, you can receive products and services from local distributors and suppliers at a lower price.
Understanding your area allows you to get honest feedback and learn what the business lacks and what the community wants. Moreover, several nearby companies from different sectors with shared consumer bases can partner to grow their business.
You can also become a business partner in a local non-profit organisation to create a good reputation in the community. You can understand citizens' needs, discover ways to help people and grow your influence by working with NGOs in your region.
As a female entrepreneur, think of networking even when you aren't in the office or formal meeting. Try to create organic connections outside the workplace to gain knowledge and unique perspectives that can help in business. Making organic relationships can also help entrepreneurs to build trust, promote their businesses and maintain a good reputation in society.
Maintain Relationships
Creating a connection is only the start. Once you meet professionals through social media, workshops, meetings, events or groups, try contacting or meeting them to grow your relationship. Remain consistent and relevant by contacting them after your first meeting. Offer value and support to your relationships by interacting with people, helping them and sharing your industry connections with them.
Every network offers entrepreneurs an opportunity to build mutually beneficial connections. Every female entrepreneur should meet people with a mindset to learn something from them. When you think about what you can gain from a relationship, you closely listen to people and try to understand them.
Ask clients, professionals, employees and customers how they are doing through email, phone call or text message. Send them holiday cards, invite them for meals, listen to them and share important ideas, information and opportunities. Attend the events they conduct and request them to join yours.
Always keep professionalism in your conversations by replying in a friendly and prompt manner. Increase your credibility by promoting other businesses and entrepreneurs and putting efforts into growing the relationship.
Always Offer Something Before Taking
As a female entrepreneur, always try to maintain positive balances in your relationships. In any social or professional interaction, it's necessary to always offer something before asking. You can help people with something as small as finishing a task or sharing your connections. If you offer something first, you show that you value the other person and their contributions. Thus, you can create stronger relationships built on mutual respect and reciprocity.
Additionally, if you selflessly offer support to your connections, they will be more receptive to your request or proposal. It demonstrates that you are willing to contribute to the relationship meaningfully while benefitting your business. Prioritise supporting your connections over requesting anything for yourself. Ensure your community is happy to "return the favour". Whenever you meet a professional, try to understand their interests, goals and needs. Understanding other individuals will help you offer the required help and build your character.
Follow Up and Keep Records
After attending any event, message all your new connections about how great it was to meet and thank them. This simple step can help you build long-term relationships with your contacts. Networking includes tracking other professionals to maintain your relationship with them. Periodically talk to your connections and meet them to avoid losing touch.
Networking opportunities can occur anytime at any place. Thus, female entrepreneurs should carry business cards to build connections and promote their businesses. By exchanging business cards and following up with people, female entrepreneurs can create a strong network in the UK.
THREE P'S OF NETWORKING
After understanding how to build a network, let's see the three P's of networking. To create meaningful connections and a valuable community, female entrepreneurs should focus on these 3 P's: Purpose, People, and Process.
Purpose: The primary purpose of networking should be to create a good rapport, develop connections and gather information. The entrepreneur should try to meet new people, exchange ideas, build trust, discuss growth plans and understand others' opinions. Always remember that networking is about creating the foundation of a new relationship and not pitching to people.
People: Working with a team is better than working alone. Entrepreneurs must create a network of like-minded professionals who are skilled, keen learners, and experienced in the industry. The people of a company say a lot about the brand. Thus, entrepreneurs should work with hardworking, dedicated and determined individuals to grow the company and increase brand value.
Process: In this digital era, making connections has become very convenient. Entrepreneurs can find like-minded people on social media platforms like LinkedIn, Facebook, Opportunity, AngelList etc. Moreover, they can join several online and in-person groups, meetings, events, workshops, communities, and forums to discuss and exchange ideas. Always get other people's cards and contact details over giving yours out.
Three Keys to Effective Networking
There is a common misperception that introverts aren't good at building meaningful connections and communicating with people. Interestingly, this is simply not true. Effective networking does not depend on the personality of a person. It just needs practice, method, focus, preparation and applying skillset in communication. By practising the following three soft skills, anyone can master the art of networking.
Be authentic and build long-term relationships: While networking, try to value every interaction by taking an interest in others, listening to them and understanding their perspective, interests, goals and ideas. If you focus the conversation on the people you are interacting with, you can have genuine discussions. If you hear others and reciprocate and support them, you can build a long-term fruitful relationship.
Practice and perfect your approach: Before interacting with people, it is necessary to prepare what to say, when to speak, and how to say it. Try to discover common ground with people and create a rapport. If entrepreneurs regularly practice the pitch, they can put their best foot forward. Moreover, this technique can help you in creating a better female entrepreneurs network.
Take time and take away the experience: Take time and put effort into making meaningful connections. Conduct proper research before reaching out to people. With each interaction, take the feedback and understanding of the audience.
Today we discussed valuable tips for female entrepreneurs to build their networks in the UK. What are your opinions on female entrepreneurs who have successfully created a strong network? Let us know in the comments section below.