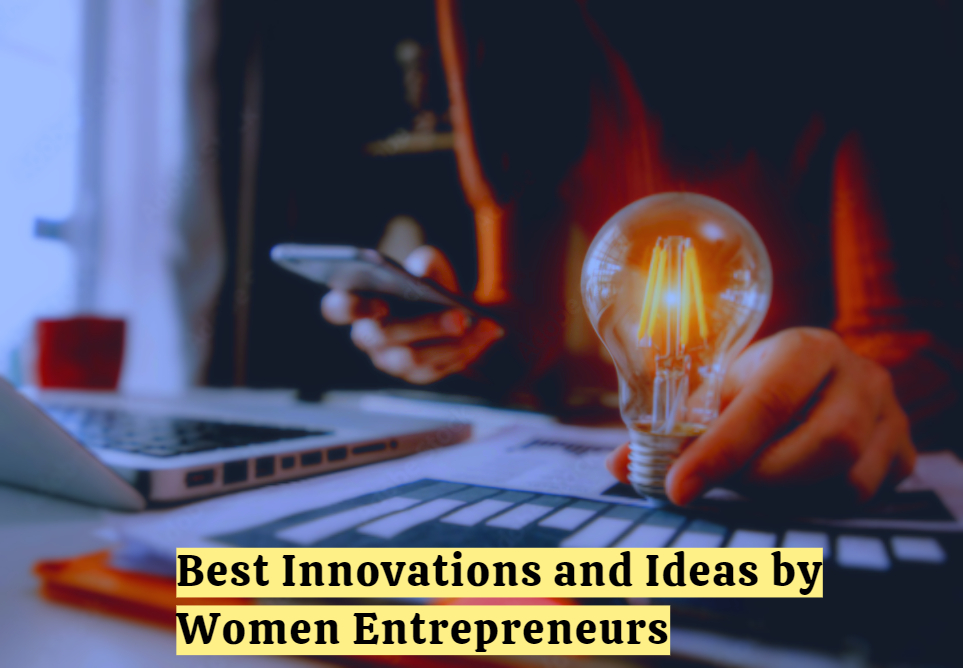 Michelle Obama once said, "Women can achieve anything with innovation, dedication, determination and hard work." In today's competitive world, female entrepreneurs are accomplishing everything and taking every industry by storm! Several British women entrepreneurs have turned their ideas and innovations into businesses. These female leaders are inspiring and empowering thousands of women around them.
The UK has witnessed a rise in women entrepreneurs in the past few years. They faced several odds and failures and built their businesses from scratch. Let's celebrate the success of these female leaders by discussing the Best Innovations and Ideas by British Women Entrepreneurs.
Joan D'Arcy: Founder and Director of Plastic@Bay
In 2017, Dr Joan D'Archy and Dr Julien Moreau observed the adverse effects of plastic waste disposed of in oceans. Soon they established Plastic@Bay, a non-profit organisation that aims to tackle ocean plastic pollution in North West Scotland. The firm actively eliminates enormous amounts of plastic from the seaside every year. Moreover, Plastic@Bay collects information on ocean plastic pollution and researches innovative techniques to recycle waste and plastic.
Joan is the founder, director and secretary of Plastic@Bay. She prepares funding proposals and has proudly secured an investment of £175,000 for the company. She handles several strategic projects to expand her firm as a revolutionary and innovative organisation. Moreover, Joan manages Plastic@Bay's administration, finances, HR, website and online shop every day.
D'Arcy holds a PhD in Geochemistry. To save the UK's environment, Joan is building local ocean plastic recycling facilities (LOPRF) in seaside areas of the UK. Interestingly, these installations are affordable and rapidly recycle ocean plastic, transforming waste into construction materials.
Moreover, the entrepreneur intends to offer regional employment and training opportunities to deserving young candidates. Joan is making the world a better place with her efforts to fight pollution and create a clean environment.
Anne Boden: Starling Bank
After the 2008 global financial crisis, banks still followed old systems but customer expectations, laws, and regulations changed. Soon Anne Boden observed the flaws in the banking system and established Starling Bank in 2014. Starling is among the best innovations and ideas by British women entrepreneurs because it is making banking easy and convenient for everyone.
Starling Bank is a digital banking platform that assists customers in managing their finances in real time via technology. The innovation has been a groundbreaker since its launch. Users can easily set up bank accounts in minutes and access Starling's services through an application. The digital bank helps customers save money, track transactions and make easy and fast payments.
As the founder, CEO and member of the Board of Directors of Starling Bank, Anne supervises the company's Executive Leadership Team. Moreover, she is a member of the board of UK Finance and a consultant to the Board of Trade. In 2018, Boden received an MBE for contribution to the fintech sector.
Anne has over 30 years of experience in the banking and finance industry. She has worked at some of the world's biggest financial firms. Her previous companies include PWC, Royal Bank of Scotland, Allied Irish Banks, UBS, ABN AMRO, Aon Corporation and Lloyds Bank.
Loral Quinn: Sustainably
In 2015, Loral Quinn and her daughter, Eishel, established Sustainably- a free application that helps individuals support charities. On Sustainably, people simply need to select a good cause to help. Further, the application automatically rounds up online payments and donates a small amount each time the user buys. Hence, with Sustainably, people can quickly spread kindness and change the world every time they purchase.
In 2018, Sustainably was among Virgin's top 10 startups list. Moreover, in 2019, Richard Branson honoured the company with the startup of the year Award. Sustainably constantly updates the users about the difference they have made with their charity. Additionally, users can easily select their donation limits and control them at any time.
Loral is an entrepreneur, CEO, director, strategist, speaker, innovator, board advisor and growth marketer. She has received 20 recognitions and awards for her contribution to the industry, government, marketing, digital products, fintech and innovation. Moreover, BIMA named Quinn in the top 100 people in the UK's digital sector. She has also won Richard Branson's startup of the year Award. The entrepreneur has led international teams and operated multi-million dollar projects.
The business tycoon also does a lot of philanthropic activities. Since June 2020, Loral has joined 40 charities, including British Heart Foundation, Shelter and Macmillan. She has over 30 years of experience in innovation, marketing, leadership and digital growth. Loral considers herself a champion in sustainability, inclusion, diversity and impact. She has proudly raised investment and designed and promoted new services and products to sell them globally.
Elaine Warburton OBE: QuantuMDx Group
Elaine Warburton OBE is the Non-Executive Director and Founder of QuantuMDx Group. The UK-based biotechnology company designs diagnostic medical devices to control illness and reduce suffering. Since its establishment, the company has provided quality diagnoses to patients and brought several helpful devices to market. Elaine Warburton, Julian Warburton and Jonathan O'Halloran founded QuantuMDx in February 2008 to solve real-world problems.
Several funding agencies, including The Bill & Melinda Gates Foundation, Vita Spring and the Future Fund, support QuantuMDx. Moreover, the 3B Future Health Fund, the University of Newcastle and the Helsinn Investment Fund finance the MedTech company. It has conducted 12 rounds of fundraising and successfully obtained over £72m to design diagnostic devices.
Elaine Warburton is an entrepreneur, investor, philanthropist and innovator. She has co-founded two revolutionary firms- QuantuMDx Group and ReadyGo Diagnostics. Elaine's companies are working on the world's four serious health threats- Covid, TB, AMR and cancer. She advocates patient safety through her Advisory role at Javelo Health. The entrepreneur passionately supports other female entrepreneurs, students and workers in Science, Technology, Engineering and Maths. In 2014, Elaine received an OBE for her services to innovation in the health industry in the UK.
Warburton has over 25 years of experience in biotechnology and healthcare. With a diverse background in genetics, nursing, running hospitals and accounting, the entrepreneur is on a mission to improve healthcare. Moreover, in 2022, InspiringFifty Europe honoured Elaine with the top 50 women in technology Award.
Joanna Dai: CEO of Dai Clothing
Joanna Dai is an entrepreneur, innovator, founder and CEO of Dai Clothing. Dai is an apparel brand that designs elegant, comfortable and eco-friendly clothes. From pursuing investment banking for eight years to introducing an innovative womenswear brand, Joanna proves that dreams have no limits. She established Dai in 2017 for the betterment of the planet through sustainability and women empowerment. In 2020, Dai Clothing achieved B-Corporation Certificate with a 97.4% score.
Dai offers confidence with comfort. In the time of fast fashion, Dai attempts to shift the consumer focus to quality over quantity. Hence, it suggests people purchase fewer but high-quality products. Moreover, the fashion brand provides timeless, recycled, plant-based and biodegradable clothes. It weaves sustainability into every fabric of the company. Additionally, Dai Clothing's products are safe for the skin.
Joana strongly believes people should purchase less by focusing on a more seasonless approach. She says consumers should consider the need and quality of clothes before buying instead of buying more. The entrepreneur aims to support, encourage and empower women in every part of their lives. She thinks that hard-working and succeeding women create a better world.
The stories and journeys of all these women are different, but they all have strength and determination at their centre. These self-made billionaires are teaching us how to transform the world. These were some of the best innovations and ideas by British women entrepreneurs. Which one was your favourite? Let us know in the comments!