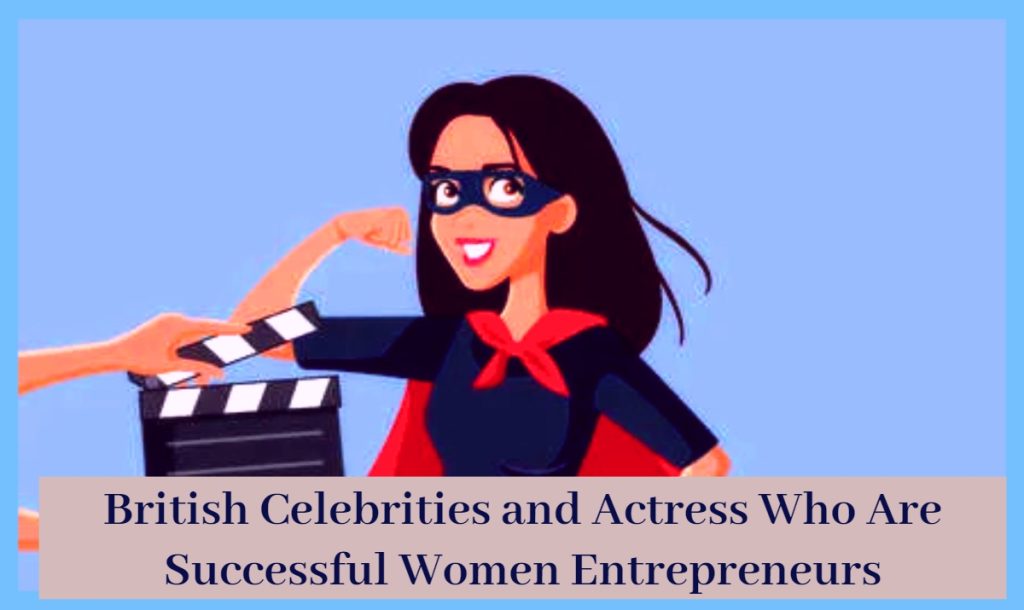 Celebrities are primarily famous for their blockbuster movies, chart-topping songs, well-written scripts, glamorous catwalks and social media posts. While most superstars stick to the entertainment industry, a few use their reputation and fame to start businesses. While some celebs distance themselves from the spotlight after succeeding in business, others shine in both. Today, we will discuss British Celebrities and actresses who are not only good in reel life but are also successful Women Entrepreneurs.
Impressively, several stars have started their entrepreneurial journey by establishing their brands. Moreover, many passionate celebrities have bid goodbye to the entertainment industry to run their businesses. For instance, while Victoria Beckham became famous as a singer, she now runs her fashion label. Below, we discover some favourite British Celebrities and Actress Who Are Successful Women Entrepreneurs.
Victoria Beckham
Victoria Beckham is a famous British Television Personality, fashion designer and former singer. Popularly called Posh Spice by the media, she joined the Spice Girls in 1994. Moreover, in 2001, Victoria signed up with Virgin Records and launched her debut solo album. The singer appeared in several reality shows, documentaries and TV programmes. According to Marca, the net worth of Victoria Beckham is £393 million in 2022.
At present, Beckham is an international fashion designer and style icon. In 2008, the fashion icon established an eponymous brand and collaborated with several high-profile labels to grow her business. Moreover, she introduced another brand in 2011 that offers lower-priced products. In the same year, the Victoria Beckham label received the designer brand of the year in Britain. The celebrity has received huge success and fame in the fashion industry. Moreover, she received an OBE in the 2017 New Year Honours.
Kate Moss
Kate Moss is a British fashion model and entrepreneur. From starting modelling at 14 to launching cosmetics, Kate is famous for her business, design and music projects. In the early 1990s, she joined the heroin chic fashion trend and gained fame as the decade's sexiest woman. Moreover, she collaborated with Calvin Klein to become a fashion icon among British youth.
Moss is famous for her size-zero fashion, elegance and attractive physique. In 2007, Time named the model among the world's 100 most influential people. Moreover, she owns a clothing range and contributes to Vogue as a fashion editor. In 2012, she earned £8.6M, and Forbes named Kate on the top-earning models' list for her success. Additionally, in 2013, the British Fashion Awards honoured the model for contributing to the fashion industry for 25 years.
In 2016, the supermodel became an entrepreneur by launching her company, Kate Moss Agency (KMA). KMA is a British talent agency that develops, nurtures, manages and builds the career of aspiring models. Moreover, in 2022 Moss launched another brand, Cosmoss, a beauty and lifestyle label. According to celebritynetworth.com, the net worth of the model is £64M.
Lisa Vanderpump
Lisa Vanderpump is a British TV personality, actress, author and business tycoon. She co-owns 36 restaurants and clubs in the UK and the US with her husband, Ken Todd. The net worth of the businesswoman is estimated to be £78m.
Interestingly, Lisa made her film debut at 13 in a 1973 rom-com. She gained popularity after working in several TV programs and movies like Vanderpump Rules, The Real Housewives, Masterchef Celebrity and many more.
Till now, Vanderpump has appeared in over 100 advertisements for brands like Lilt, Britvic 55, Maltesers and Hamlet cigars. Over the last ten years, Lisa has launched several businesses, including her lifestyle blog, homeware collection, restaurants, clubs and beverages.
In March 2017, Beverly Hills Lifestyle Magazine appointed Lisa as their editor-in-chief. She bid goodbye to the organisation in October 2018 to focus on her other projects. Lisa is known for her social work, philanthropy, awareness, and charities. Moreover, Lisa believes everyone should follow their dreams to avoid hard work and struggle.
Trinny Woodall
Trinny Woodall is a British fashion and makeover specialist, author and Television anchor. In 1994, Trinny joined Susannah Constantine to author a weekly fashion column for the popular newspaper, The Daily Telegraph. Subsequently, the duo launched their online business and became a big success by giving people fashion advice. This turning point motivated Woodall and Susannah to launch their first fashion-advice book.
Trinny has appeared in numerous TV programs like What Not to Wear, Trinny & Susannah Undress the Nation and Doctor Who. She has also been featured in The Great British Body, 7 Days on the Breadline and the list goes on. Subsequently, they launched their second book and received British Book Award for selling over 670,000 copies. The duo co-authored 11 fashion advice books, selling over 3 million copies internationally. Moreover, Trinny's several books became best-sellers in the UK and the US and received several recognitions and awards.
In 2003, Woodall and Constantine introduced their shapewear range, Trinny & Susannah's Original Magic Knickers, expanding the business to 30 countries. Trinny is passionate about fashion, makeup, business, and spreading the body positivity movement. The beauty entrepreneur has a current net worth of £218m.
In 2017, she launched the world's first online global beauty brand, Trinny London. Moreover, it is Europe's leading direct-to-consumer enterprise.
Michelle Dewberry
Michelle Dewberry is a British politician, TV presenter, entrepreneur and media personality. Dewberry is famous for winning the second season of the British TV program, The Apprentice. In 2006, she started her business consultancy to help people manage their funds, finances and venture.
She published her autobiography named 'Anything is Possible' in 2007. Michelle became a monthly columnist at the magazine Business Matters in 2009. Moreover, in 2016, the celebrity participated in the ITV gameshow- The Chase and received £1K for qualifying in the finals. Michelle donated the prize money to a charity for abused women.
In 2017 and 2018, Dewberry appeared on BBC's Chat Show- Question Time. Moreover, she was a regular panellist on Sky News's The  Pledge. In 2021, Michelle joined GB news with her prime-time show- Dewbs and Co.
Jennie McAlpine
Jennie McAlpine is a British TV actress, comedian and business magnate. She gained popularity after playing the character of Fiz Brown in the ITV soap opera Coronation Street. Jennie's life journey is very intriguing. She entered the Young Comedian of the Year competition at 13 and came second in its final.
From 1997 to 2001, McAlpine performed at several galas, charity and pub nights as a stand-up comedian. Moreover, Jennie appeared in several shows, like, Supermarket Sweep, Emmerdale, I am a Celebrity, The Door, Anonymous Celebrity and Soapy Slip-Ups.
In 2020, the actress became the voice of the Witchway buses by announcing onboard and upcoming stop details in the bus. Additionally, she co-owns a restaurant with her husband in Manchester City Centre. It is famous for serving modern British cuisine. Since her teenage, Jennie also does several philanthropic activities and charity. She has also gained the limelight for helping unprivileged children in Egypt.
These celebrities are true examples of beauty with brains. They have not only excelled in the entertainment industry but have also achieved great success in business. Which of these British Celebrities turned Successful Women Entrepreneurs do you like the most? Write down in the comments section below.